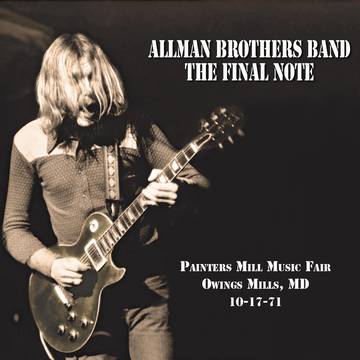 THE ALLMAN BROTHERS BAND - The Final Note (RSD DROP 2)
THE ALLMAN BROTHERS BAND - The Final Note 
Record Store Day 2021 Drop 2
2x LP Black & White swirl vinyl
Quantity: 9000
Live Recording of Duane Allman's last performance, from 10-17-71 at Painters Mill Music Fair in Owings Mill, MD
Additional unreleased bonus track, "Stormy Monday", from Austin, TX, 1971.
Pressed on limited edition Black & White swirl vinyl as part of RSD Drops.

Statesboro Blues/Trouble No More/Don't Keep Me Wondering/Done Somebody Wrong/One Way Out/In Memory of Elizabeth Reed/Hot 'lanta/Whipping Post/Stormy Monday.
Label: Allman Brothers Band Recording Company
UPC: 821229000233