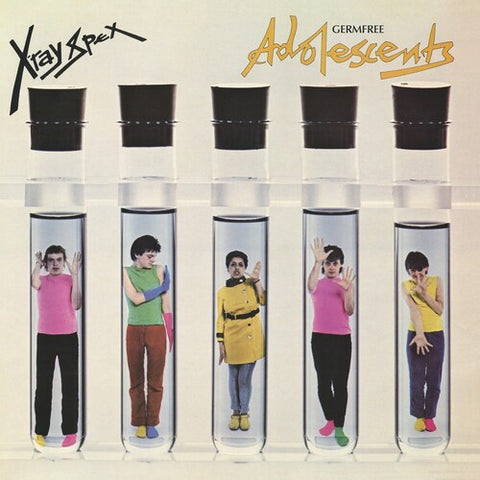 X-Ray Spex - Germ Free Adolescents (Pink, LP Vinyl)
X-Ray Spex - Germ Free Adolescents
Pink Colored Vinyl LP
Limited Edition of 1000
180 Gram Vinyl 
RELEASE DATE: 10/6/2023DESCRIPTION:

Limited Numbered (1 to 1000) Edition. 180-gram Day-Glo Pink Vinyl. 4 panel 12" insert containing artwork, photos and extensive sleeve notes.

Limited "shocking pink" colored vinyl LP pressing. Germfree Adolescents is one of the signature albums of the early (1978) British punk movement. The one and only LP release from X-Ray Spex and it's irrepressible frontwoman Poly Styrene has been deemed by everybody from Greil Marcus to Robert Christgau to Spin to Mojo as one of the greatest punk albums ever made. Includes inner lyric sheet, where you can read Poly's brilliant observations about the plastic, corporate nature of modern society. All of which she sings in a passionate yowl all her own (with Lora Logic among others backing on saxophone); this is not only one of the most penetratingly observant punk records, it's also one of the most passionate, and, surprisingly enough, catchy. Check out "The Day the World Turned Day-Glo" and "Germ Free Adolescents" if it's hooks you're after; if it's righteous anger and a noisy racket you're seeking, every track will do ya.
TRACKLIST:
A1 Art-I-Ficial 3:21
A2 Obsessed With You 2:26
A3 Warrior In Woolworths 3:04
A4 Let's Submerge 3:23
A5 I Can't Do Anything 2:55
A6 Identity 2:22
B1 Genetic Engineering 2:45
B2 I Live Off You 2:06
B3 I Am A Poseur 2:29
B4 Germ Free Adolescents 3:09
B5 Plastic Bag 4:56
B6 The Day The World Turned Dayglo 2:50
LABEL: Secret Records
UPC: 5036436144822
---
We Also Recommend